January 2014 · Chef John Reed, CEC, CCA
If you read my newsletter the The Rubber Band Door Knob, you know I went through a all juice detox. Three days, all juice to cleanse the body and the mind. I couldn't put all of my thoughts down in the newsletter but I wanted to share my approach to healthier cooking at home. The concept is to look at the development of a menu where the ingredients are not just randomly selected nor the techniques used a whimsy. The process of electing items takes time and can be hazardous. No you are not going to loose life or limb writing a menu but there are preverbal cliffs and treacherous turns in the words you use. Menu writing is an art. Some do it well and others are a little to heavy with the fluff and descriptions used.
My process is to ensure that what is written is what is served. It also requires the ingredients and combinations of those ingredients are of high quality. So in an attempt to demonstrate the results of my not so scientific research about how to  incorporate the principles of  the juicing detox into a menu this is it.
The menu needs to have a start middle and an end. The flow need to make sense from course to course. Mild to strong to bold and  memorable at the end. There needs to be balance between luxurious and simple  from raw to cooked. I want to ensure that the person eating the dishes know what is each dish from all of the clues that we provide. These clues are:
The Written Word- This is the creation of perception of what they are going to eat as well as how a server articulates what's between the lines from the growers and producers to techniques and culinary inspirations of the culinary team. The menu should not be a shopping list with directions on how to get to the farm.
The Visual- When the plate  is put down in front of the guests, can they see a variety of heights, textures, colors and perspectives of the food. Does it look like what was described? How many tomes have heard "this is nothing like what I expected when I ordered it". Pasta in a bowl should look like every piece is perfectly coated in the sauce, there is a taste of all the ingredients in every bite. A huge meat ball on top of spaghetti looks great but how well does it really eat?
The Taste: Remember, I have mentioned this many times there is a huge difference between flavor and taste. Taste is subjective. For example, fresh halibut has a clean slightly sweet taste with a sublime saltiness. That is the flavor of the fish. However if I don't like halibut that is a taste preference.  Thus a taste preference is a personal opinion. It is the chef's responsibility to ensure that all of the flavors are balanced to create a taste experience that is enjoyed by that particular guest. Sometimes we cook for us and don't necessarily please our guests as they may not have the same tastes as us.
All right enough, here's my menu
First Course
This should be a something that is going to wake up the palate and get the bodies internal system ready to digest the rest of the meal. This course need to have functionality and set a tone for the rest of the meal. I use the principles of cold press juicing here with raw beets, pears, kale, fresh ginger, mint, carrots pulped and squeeze through cheese cloth and chilled. I would shake this over ice and pour into a cordial glass. The salad would be on the side and eaten on the biscotti like bruschetta. All of these raw greens are a great way of awaking the digestive system. Kale and dark leafy greens, the new work horse.
Choice:
Cold Pressed Beet and Pear Cocktail with a Sweet Pea, Lactino Kale, Blue Cheese Salad and Smoked Bacon Crumble  served with a Fennel Seed and Barley Biscotti
Entree
This is the heart of the meal. I chose Halibut as it was what I had. However it is a firm thick fish which is rich and slightly buttery. I wanted to serve it with a minimal amount of carbohydrates and additional fats. I have seen too many cream sauces served with this in the past. Here I want to incorporate freshness and some great textures to balance the flake and suppleness of the cooked fish.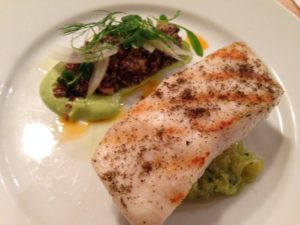 Choice:
Zatar Rubbed Grilled Hallibut with Roasted Spaghetti Squashed Tossed in a Parsley and Almond Pesto, Red Quinoa and Chick Pea Salad, Avocado and Yogurt Puree, Shaved Fennel, and Baby Arugula
Dessert
This is always a toss-up. There are times when splurging on rich intense items is called for. Usually the trigger is some kind of emotional event. It is to create a memorable end to a event such as to revive the mind after a bad day or to celebrate an event such as birthday. For a family to splurge on big desserts several nights of the week is not good  for the wallet nor the waste line. In this case i wanted something refreshing to close out the meal and something that wouldn't settle in the stomach. When I was in China last year, Dragon Fruit was served for snacks and to finish a meal. There was some in the market the other day so I picked some up to have my kids experience the flavors and know what it was if they came across it again.
Choice
Diced Dragon Fruit with Lime, Chili Powder and Cilantro