November 2014 · Chef John Reed, CEC, CCA
In preparing for a dinner several days ago, I went out shopping for barley. I tried three different stores and was having trouble finding some. Usually I find a box in the cereal or grains aisle, but only found some modified quick cooking stuff. Have we lost interest in cooking barley even though it is one of the earliest cultivated crops and still holds the #4 spot in crops grown worldwide? It has been used as part of our diet for centuries. I began wondering about why I couldn't find it. Was I looking in the wrong place at the local store, or had this grain suddenly gone out of favor?
So I started to do some research and thinking about traditional applications and uses of barley. One obscure food memory in English culture is a barley-based beverage. So, to be clear, I am not going to discuss the use of malt in some of our favorite adult beverages. Instead I will reminisce about my childhood in England and the sport of tennis. I am not a tennis player, nor do I claim to be a fan, however there was always something ubiquitous about the tennis courts at Wimbledon that I will always remember. If you look at the benches and the space near the umpire's chair, there are always bottles of Robison's Barley Water.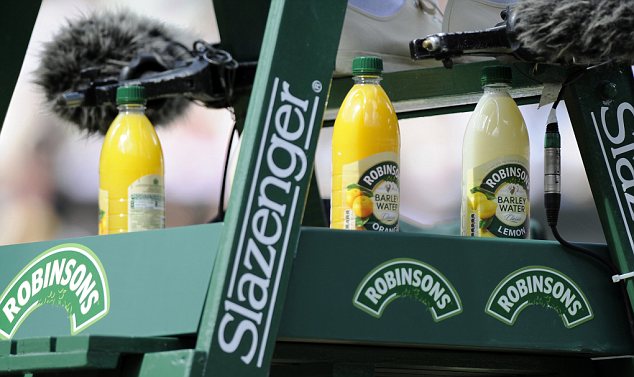 Whether out of tradition or a sense of economics and corporate sponsorship, either lemon or orange flavored is available for the contestants to drink during the matches. This was first served in the changing rooms of the club in 1935, well before that "ade" stuff was developed in the "swamp" at the University of Florida in the 1970s. In the age of healthy eating and nutrition, doesn't this sound somewhat appropriate for the times? All-natural ingredients go into Robinson's Barley Water, and they are filled with real juices and natural sweeteners. I will have to ask my nutritionist friends about the merit of this liquid as a rejuvenating beverage, though I do happen to know that barely contains eight essential amino acids, is a great source of fiber and contains a lot of whole grain.
I know we are all aware of the classic beef and barley soup. It is one of those few items that puts barley onto the menu. Additionally, if you are familiar with good Jewish food, how about cholent? This ancient dish of beef, beans and barley was prepared the night before the Sabbath so wives or mothers did not have to cook. It is really the only hot dish served as part of the Sabbath meal, and I just love the idea of this type of dish. Everything assembled the night before, hermetically sealed with a flour and water paste in an earthenware dish and slow cooked in the embers of the fire. It reminds me of the flavors of Boston baked beans done the same way, where the family bean pot was cooked in the cooling bread ovens on Saturday morning as shops were closed on Sundays, the day of family and worship. For some old Bostonian families this is still the traditional Saturday night dinner.
Most modern United States restaurant cooking techniques are based on speed and the open flame or the fryer. How fast can we cook it mentality? I just wanted to pose the question. Would you order a dish for your family the day before and have it brought to you at the end of the day so as not to have to cook, allowing you to be with your family? I think it is an interesting concept. So the idea of restaurant-style crock pot has its merits. Not to say that the slow cooking methods aren't being done. There is a noticeable taste and textural difference between traditional slowly braised short ribs verses the 40-hour rib in the sous-vide bag.
So, if I was going to shake things up and come up with a modern twist on a slow cooked barley dish that I could assemble and throw in the oven, what would it be? I think the technique I would use is a twist on a Belgian dish called Carbonade. This is a Flemish dish of beef shin braised with onions and red or brown ale from the region, and it is accompanied by a sweet and sour finish. Being fall, I like pork, root vegetables, squash and apples, which are all currently in season. The beer used traditionally has high acidity or sourness and complex malty flavors. I don't want to mask the flavors of the barley or squash so I am leaning towards a German-style bock or pumpkin ale. There is no recipe here, so I am relying on your understanding of stewing. This is how I would approach this dish:
Sweat some onions in bacon fat.
Add barley, diced butternut squash, apples and carrots.
Pour in the beer and add some thyme, a bay leaf and a couple of allspice berries.
Add cubed pork shoulder or Boston butt and season with salt and pepper.
Cover and simmer in a 250F oven until tender.
If you want to add some richness at the end, you can finish with apple butter and crème fraiche.
If you have ever heard me jump on a soapbox about recipes, it should be clear that having precise quantities and ratios when cooking are not really necessary. A recipe can only be as good as the moment. It is about feel, the quality of the products and the people for whom you are cooking. Sometimes cooking is selfish. For me, this was about appreciating a simple ingredient that I couldn't find in the store. My emotions got me going and what I ended up with was a warm comforting dish that I want to share with friends. It may seem it's about me wanting to make a dish to relieve my frustrations, but I am confident the results will be delicious.
---
Pumpkin Ales Worth Drinking