January 2013 · Chef John Reed, CEC, CCA
I use this phrase as a staring point. It is a concept I bring to my clients when helping them get to the next step. Thomas Keller in his book The French Laundry discusses things such as a sieve or tamis to refine a sauce or mousse. I see this thought process as essential for preparing food at a high level. However there are tools of refinement that need to happen not just in the kitchen and can't be bought at the local foodservice equipment supplier.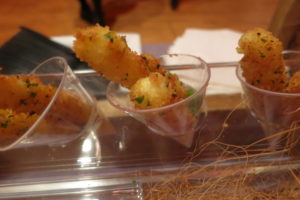 The most important tool is a really a "second set of eyes". For most it is the hardest thing to do; take critique from a third party. Having someone tell you your hard work is all for nothing can be exasperating at best. For most professionals deeply invested in their product on a daily basis, it is uneasy and in some cases the fuel on the fire if they have a bit of a temper. The defense starts and the individual hold their breath and when they have a free moment let loose and vent. I know as I did this for years. It wasn't until I took a deeper look at the process and learned that critique is the most important thing one can have in the kitchen. Without it, that is constructive criticism, a culinary team or chef can't take their food to a different level. After competing for many years, being an educator, as a judge or even a certification evaluator; I have learned many things and look at food differently.
What do I look at? I look at many things. I start with the menu, How is it written and especially the sequence of the words and the emphasis they play in creating the anticipation of what the guest is going to receive. A menu is the first thing a guest may see. If I see the word "roasted" I have already begun to create an image in my mind. I want to see caramelization of the exterior of what is being roasted. If it a red meat, I want to see the skill of the chef by seeing the color of the meat at the perfect temperature when it is sliced. In taking it to the next level, I want to extrapolate the next steps in the process. What happened to the pan it was roasted in? Did the chef capture the "fond" or caramelized flavor on the bottom of the pan to create a sauce or jus? This process is fundamental to good cooking and creating flavor. If ignored, was there an opportunity lost?
In some cases, there is a inappropriate sequence of words which causes emphasis of a technique or ingredient to be mis interpreted by the person reading the menu. For example "Pan Seared and Marinated Sirloin of Beef" In reading this, I envision the beef being seared and then marinated. If you spend time creating all that flavor through searing and then put the meat in a wet marinade, the flavors developed through the maillard reaction are lost. Affects of acids usually associated with marinade take hold and deaden colors and change flavors. Thus " Marinated and Pan Seared" would be more appropriate course of action would result in a more refined product.
This is just one example of some one from a different perspective evaluating a recipe, presentation or complete menu. I invite my colleagues to look out side your organization to have some one look at your items and give a review. For a caterer,
who is getting ready for a large high profile event, bring someone outside at the tasting who has experience and a knowledge of food to evaluate what you are serving. It is not the client, bride or event planner. It is someone who is not emotionally tied to it.
What should they look at:
Menu Writing
The food matching the description
Presentation and repetitiveness of ingredients and techniques
Taste
How well it eats with the proposed plates and flatware
Portion size in relationship to each course
Authenticity to the theme or cuisine being represented
There are many other things to consider. If you need more help, Customized Culinary Solutions is there for you. We specialize in helping clients with their menus and how they are seen by the end user.